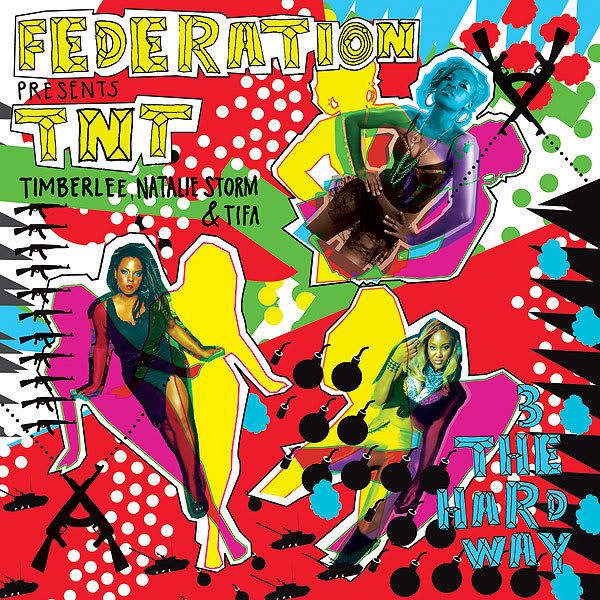 The latest from
Federation Sound
is a mix featuring 3 of the hottest female deejays in dancehall music right now:
Timberlee, Natalie Storm,
&
Tifa
. Hence the name "
T.N.T. 3 the Hard Way
".
This is the third installment of a new mix series focusing on individual artists/crews. The first was with
Wayne Marshall
and the second was with
Chino
&
Big Ship Productions
.
All these mixes are solid, but this one really stands out because it features the bad gals on the scene. Dancehall music is mainly male-driven, so this is very refreshing.
Tough/slack tracks on beats like "
A Milli
", "
Lip Gloss
" & "
Ching A Ling
" as well as on older classics like "
Kuff
" & "
Twice My Age
" make this mix super unique. It's put together well.
Timberlee
is best known out of the three for her hit longside
Ward 21
on the
Rae
riddim, "
Bubble Like Soup
". 
Natalie Storm
&
Tifa
are regulars on what seems to be every new riddim that is released. Big tings a gwaan!
FEDERATION
is: Max Glazer, Kenny Meez, Alric & Boyd, & Disco D. (RIP)
Link them for your copy.
DON'T SLEEP ON THIS MIX!!!!